Lady York Foods
Garden Centre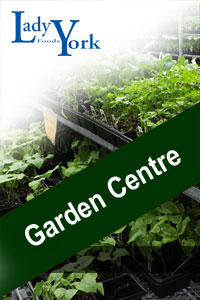 VISIT OUR GARDEN CENTRE!
OPEN FOR A LIMITED TIME!
Lady York Foods' abundant and seasonal Garden Centre offers fantastic prices on quality garden products, satisfying all of your planting needs and enabling you to cultivate the garden of your dreams! Visit to choose from a variety of lush plants to freshen up your balcony, richly colored florals that are great for a special surprise and stock up on those tools to make it all happen. Located at our rear for your convenience, it is not too late to enjoy a beautiful lawn this summer by hightailing to our Garden Centre, open until the last week of June! We look forward to seeing you there!
Garden Centre Hours
Monday – Friday
8:00 AM – 7:00 PM
Saturday – Sunday
8:00 AM – 6:00 PM